Aquariums
Incorporate an aquarium into your home or office space and dive into the world of fish and aquaria to find rest, relaxation and harmony to help reduce stress and increase your health or relief from the pressures of work whilst adding to the corporate image. Our custom aquarium designs are almost maintenance free and our team of experts are on hand to offer full support. Whether retro–fitting or building a new redfishbluefish can assist you in making the right choice of fish tank for your project. A custom built aquarium is a fantastic addition to your home or office
Aquarium Maintenance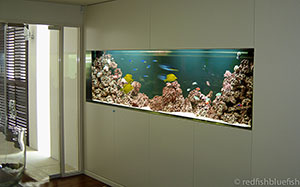 red fish blue fish provides an Aquarium Maintenance Service throughout the CBD, North Shore, South Auckland, West Auckland and East Auckland areas.
We take care of your fish tank cleaning, filter servicing and general aquarium maintenance as well as looking after your fish and aquatic plants. Our staff are highly motivated and experienced in proper husbandry including proper disease diagnosis and treatments, filtration, water chemistry, system design, and of course maintenance.
Aquarium Installation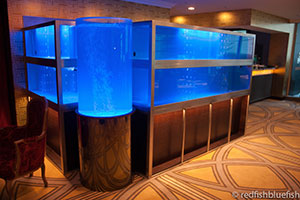 Whether you are considering installing the aquarium of your dreams or you already have an aquarium that is a little less than the one of your dreams red fish blue fish can offer something far superior to anything you will find at the local pet store. Our primary line of business is aquariums so we know what you need to achieve success. When your aquarium is designed and installed by red fish blue fish there is less time spent on maintenance and more time spent on enjoying your fish!
Aquarium Consultation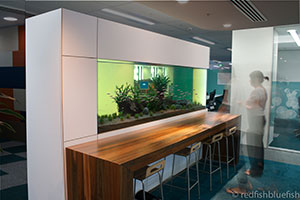 Have an existing aquarium with ongoing problems? Call us today for an onsite consultation where we will properly re-design the filtration system or provide you with professional aquascaping ideas. A consultation fee of $120 per hour applies.
So if you want to add an aquarium to your home or office, require maintenance or consultation services contact the aquarium specialists today on 021 220 3745