RedFish BlueFish – Auckland's Pond and Aquarium Specialists
RedFish BlueFish is an Auckland-based aquarium hire and garden pond design company servicing commercial and residential aquatic décor needs throughout Greater Auckland.
At RedFish BlueFish, our goal is to develop and maintain stable aquatic ecosystems, whether it is an indoor aquarium water feature or a large outdoor pond.
We design, build and maintain garden ponds, and outdoor water features for homes and businesses; and we design, lease and maintain fresh water and saltwater aquariums that breathe life into any workplace or home;
What we Do
RedFish BlueFish is a locally-owned business run by Arne Diependaele.  Our aim is to provide the best aquarium and pond services in New Zealand while ensuring that everything we do adheres to our high personal and business values.
We offer the following services:
Garden Ponds and Water Features
We design, build and maintain garden ponds, water gardens and water features for commercial and domestic premises.  This includes all landscaping, planting of water-plants, and ensuring everything fits with any existing water or irrigation system.
RedFish BlueFish are experts in garden pond design, and installation.  We can design and build custom garden ponds to suit your needs and the size and shape of your outdoor (or indoor) space.
If you already have a water feature, RedFish BlueFish can maintain it for you.  We manage and service garden ponds, outdoor water features and associated garden décor products of all sizes.  We will evaluate and recommend the best plan for your pond.
Stable Aquatic Ecosystems
We understand the challenge of creating and maintaining a stable aquatic ecosystem and can ensure yours will survive and look great.
Aquatic ecosystems, whether a pond, stream, wetland or shoreline, are constantly changing due to erosion, or climatic conditions such as excessive rain or dry-spells.  When we design your aquatic ecosystem, we take all such conditions into account.  Our wetland planting and introduced aquatic life will reflect the needs of your specific area and your purposes and goals for the area, whether it is for fishing, wildlife, swimming, aesthetics, or just a beautiful aquatic area.
We will complete all design, site preparation, and installation of your aquatic ecosystem and then, once your new aquatic ecosystem is in place, we will manage and maintain it to ensure its stability and continued splendour.
If you already have an aquatic ecosystem, whether it is well maintained or in need of revitalisation, we can restore and manage it for you so that it remains an attractive and enjoyable feature of your property.
Aquarium Leasing Services
We lease and service both fresh water and saltwater aquariums.  Our aquariums are high-quality precision cut-glass frames and come in almost any size. We have a wide selection of backdrops, interior aqua-scaping accessories, and tropical fish options
Home Aquarium Servicing
Most people enjoy the calming and tranquil space provided by an aquarium or garden water feature, but are unsure of how to maintain them.  We provide full support and a full Aquarium Maintenance Service to take care of your fish tank, fish and aquatic plants.  And, if you don't have an aquarium yet, we can design and install one for you.
Phone us for advice on your fish tank or water garden (we receive phone calls from all over New Zealand), or give us a call and we will come around to your place – anywhere in Greater Auckland.
Our Company Values
We have based our company and the service we provide on six core values:
Honesty and integrity – we want people to tell others about our reliability and dependability. We have built our reputation on being honest with our clients.  If we say we can do it, we do it; if we know we can't do it, we will tell you up-front.
Client satisfaction – the greatest pleasure we receive in our work day is to have a client tell us they love our work. We will go the extra mile to ensure you are completely satisfied with the services we provide – and, we always phone before we come to your place!
Value for money – we use only the best products, supply the best fish, and provide the finest service at a price you can afford. Let us know your budget and we will work within it to provide a water feature or aquarium you can be proud of.
Exemplary service – success for us is not just about finishing a project, it's about exceeding the expectations of our clients and seeing the enjoying you receive from your completed water feature.
Loyalty – client relationships and exemplary service are important to us. We want to make sure your water feature or aquarium looks great, always.  That means we are willing to share our passion and expertise with you.  If you have a question about anything to do with your indoor or outdoor water ecosystem, aquatic plants or water features, or aquarium or aquatic life, just ask, we are only ever a phone call away.
Personal growth – we may be fish experts but we don't know it all yet.  Our commitment to our clients is that we will continue to learn so that we can continue to offer you the best service possible.
Team Members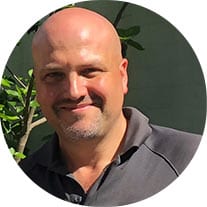 Arne Diependaele
Arne, the owner of RedFish BlueFish is passionate about all things relating to fish and the aquatic environment.  He's been keeping and breeding fish for around 35 years.
Arne's fascination with fish began with keeping goldfish when he was given his first tank when he was just 11 years old.  He then went on to keeping outdoor fish and, by his teenage years, he was hooked.  By the time he reached university age, Arne knew he wanted to make his hobby his career.  He gained a Masters of Agricultural Engineering majoring in Environmental Sciences – a degree he chose because he knew it would lead into a career based around water gardens and pisciculture (that's the keeping and breeding of fish).
This lifetime fascination now extends to fishkeeping, breeding, water gardens, aquaponic systems, aquarium set-ups, in fact, anything to do with garden water features and aquariums.
As RedFish BlueFish continues to grow, Arne is committed to maintaining the company values and which shape everything he does.  It's those six values and the business's family-feel that makes RedFish BlueFish the garden pond and aquarium company of choice for businesses and households across the Auckland region.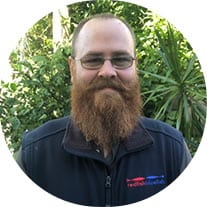 Matt Gentil
Matt is the company's Aquatics Service Technician.  Also passionate about fish and aquatic life, Matt spends his days servicing our clients' garden ponds and aquariums.  Sharing the company values and client loyalty, he gains pleasure from seeing the enjoyment people receive from their aquatic feature.